The Council on Chemical Abuse provides Opioid Overdose Reversal Kits, which include Narcan® nasal spray, to all Berks County, PA residents, businesses, organizations, and agencies at no cost. Order a kit
How to get a kit
Have a kit mailed to you by completing the form.
– OR –
Pick up a kit in person at one of the following locations between 8:00 a.m. and 4:00 p.m. Monday through Friday. 
Council on Chemical Abuse | 50 N. 5th St., Fifth Floor, Reading | (610) 376-8669
Berks RISE Center   |  702 N. 8th Street, Reading  |  (610) 750-7550 (Please call first to insure availability)
Check the Expiration Dates on Your Narcan®
If you have Narcan® that is expiring, please fill out our form below to reorder a free box.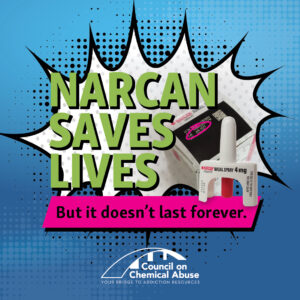 ——————————————————————————————————-
We strongly recommend that you complete one of these online Narcan® trainings:
*Please note: If you do not have a computer you can use a computer at the RISE Center.
Get Naloxone by mail

Not from Berks County, PA?

Mail-based services are available to all PA residents.

Learn more
You must live or work in Berks County, PA to receive a Narcan® Kit from COCA. Requests from out of county will not be filled.
Frequently Asked Questions about Narcan®