The Council on Chemical Abuse held it's first all in-person conference since 2019 on November 2, 2022 at the DoubleTree Hotel in Reading with over 200 in attendance. This year's theme was Resilience, and the conference opened with an engaging keynote presentation entitled "Resilience as a Key to Recovery and Health," by Doug Tieman, former CEO of Caron Foundation. The conference also included a panel presentation with a discussion on resilience in recovery from addiction, with a focus on resilience during the COVID pandemic. Attendees were able to choose from workshops on Harm Reduction, Current Drug Trends, Adolescents and Trauma, and SUD & Recovery Resilience.
In addition, an award ceremony was held at lunch, honoring people who have made significant contributions to the field of addiction and recovery.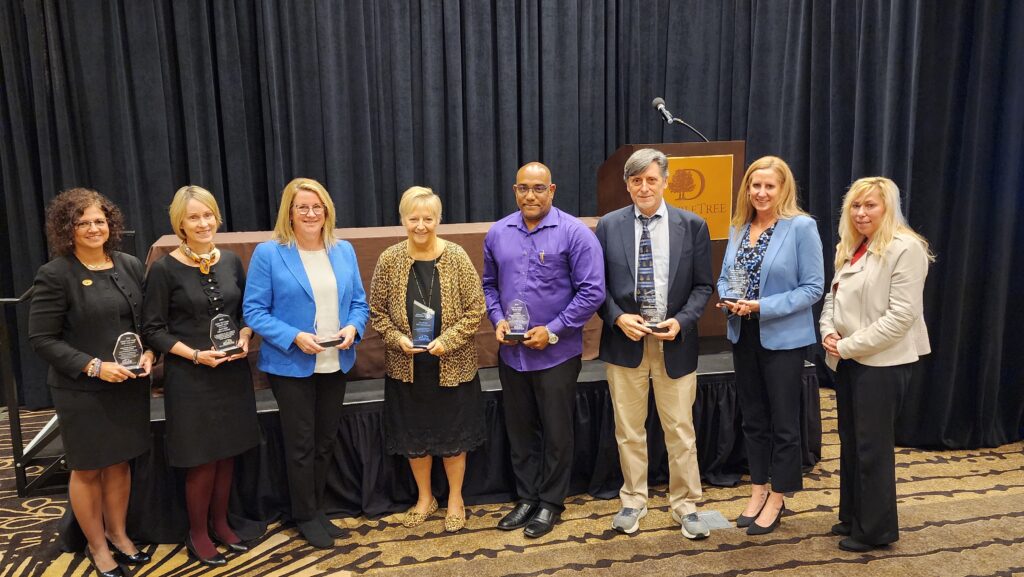 Photo: (L to R) Judge Eleni Geishauser, Beth Derr, Barbara Boland, Kim Johnson, Lee Cruz, Dr. William Santoro, Judge Teresa Johnson, Incoming COCA Executive Director Kathy Noll.
Congratulations to all our award winners!
THE ROGER S. HERTZ EDUCATION AWARD: For ongoing commitment to development and/or provision of drug and alcohol programming in a school setting.
Barbara Boland, Conrad Weiser School District Student Assistance Program
THE JOSEPH "BUD" HAINES COMMUNITY AWARD: For ongoing commitment to preventing drug and alcohol abuse in the community.
Beth Derr, Hope in Action
THE FRANCIS "FRAN" DREXLER PUBLIC SAFETY AWARD: For ongoing commitment to providing law enforcement-related services that prevent, combat and intervene on drug and alcohol-related problems.
Judge Eleni Geishauser and Judge Theresa Johnson, Berks County Court of Common Pleas
THE BETTY J. MCDONOUGH TREATMENT AWARD: For ongoing commitment to the treatment of addiction.
Addiction Medicine at Reading Hospital
THE ALGOT "AL" ECKSTROM RECOVERY AWARD: For ongoing commitment to the recovery from the disease of addiction.
Lee Cruz, Transformations, Inc./YMCA-Camp Joy
THE GEORGE J. VOGEL, JR. PRESIDENT'S AWARD: For overall ongoing commitment as aView Post volunteer, leader or professional in the treatment, prevention and intervention of substance use disorder.
Kim Johnson, YMCA of Reading and Berks County