Congratulations to our 2023 Pat Ganter Scholarship winner!
The 2023 scholarship was awarded to Eva Steiner, a senior at Conrad Weiser High School who plans to attend Towson University in Maryland as a psychology major, with a specialization in substance use disorders. On her application, Ms. Steiner openly shared her lived experience as a child coping with her father's substance use disorder and how that experience lead her on this career path. Ms. Steiner wrote," I believe I was meant to experience what I did in order to discover my passion for substance use prevention, treatment, and recovery. I want to be a supporter and helper of people affected by the disease of addiction".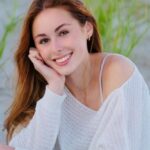 About the Scholarship
The Pat Ganter Scholarship awards $5,000 to a graduating Berks County high school senior planning to pursue a college degree program with the intentions of aiding their community efforts to provide substance use prevention, treatment and recovery services. Each year, scholarships are awarded in May.
Please note: In previous years, COCA awarded multiple $1,000 scholarships. This marks the first year that a $5,000 award will be given to one recipient.
Suggested Areas of Study
Addiction/Mental Health Studies
Public Health
Education
Criminal Justice
Occupational Health
Social Work
Behavior Health
Human Services
Medical Field
Psychology
Eligibility Requirements
Must be a resident of Berks County and a graduating senior
Must be in the enrollment process or accepted to an accredited university, college, within the United States
Must be pursuing a degree and demonstrate a desire and potential to help individuals and families struggling with addiction
Limited to one (1) entry per person
Scholarship funds must be used to pay for qualified expenses for the 2023-2024 academic year
Judging criteria
Application essay entries will be judged upon the following criteria:
Focus – How well did you stick to your main idea? Is it insightful and original
Support – How effectively did you support the ideas expressed in your essay
Creativity – How unique were your ideas? Did you present them in a creative way
Organization – Is the essay clear, organized, and easy to read?
Style and Language – How well did you utilize style and vocabulary to enhance your essay?
Grammar – Are there grammar, spelling, or punctuation mistakes?
Deadlines
Application must be submitted by April 25, 2023. Winner will be notified on May 5, 2023. Winner and immediate family will be invited to a celebration luncheon to accept the award.
Congratulations to our past winners, Ashleigh Huhn and Izahne Williams
Scholarship Background
Patricia Ganter, as a dedicated employee of the Council on Chemical Abuse and Caron Treatment Centers, was recognized by colleagues for her commitment to the field of addiction and recovery.
In her role as Administrative Assistant with these organizations, Patricia displayed compassion and optimism for those challenged by addiction. She will long be remembered for her steadfast belief in the power of recovery.