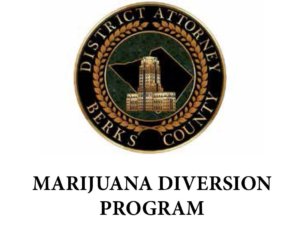 This program is voluntary and is provided to you by the Berks County District Attorney's Office, in cooperation with the Council on Chemical Abuse (COCA).
About the Educational Session
During the 3-hour session, an instructor will provide factual information on the pharmacology of marijuana and discuss substance use disorders involving marijuana and other substances.
Participants will examine how the use of marijuana has impacted their lives.
How to Get Involved
Referral to the Marijuana Diversion Program is initiated by the Magisterial District Judge at the preliminary arraignment. Any individual who has been charged with possession of a small amount of marijuana in Berks County, PA is eligible. Individuals charged with possession of drug paraphernalia related to a marijuana charge may also be eligible.
A non-refundable $50.00 service fee payable to COCA is required per referral to participate in the program. Service fee and signed referral must be submitted before the participant is eligible to schedule his/her class. If paying by check, be advised that there will be a $40.00 fee charged for each returned check. Online payment is available below.
Please note: An unattended class will result in a $50 rescheduling fee.
Participants may also be responsible for any court costs assessed by the judge. Those who choose to participate must complete the program within 60 days following his/her preliminary arraignment.
Upon the successful completion of the program (including payment of any court costs), the District Attorney's Office will dismiss the charges pursuant to Pennsylvania Rule of Criminal Procedure Rule 546 entitled Dismissal Upon Satisfaction of Agreement.

If an individual does not wish to participate in the Marijuana Diversion Program, the charges will be handled as any other charges are handled by the Magisterial District

Program Policies

During the educational session, the instructor has the option to dismiss any participant he/she perceives to be under the influence of drugs or alcohol and/or disruptive in class.
No food, beverages, or tobacco of any type will be allowed during class.
Participants are not allowed to use cellphones or recording devices during instructional times.
Disruptive behavior such as the use of profanity, name-calling, derogatory remarks, aggressive behavior or side conversations may result in termination from the program.
Submit Payment