Blue CARES Goals

To encourage the overdose survivor to engage in appropriate addiction treatment.
To provide the much needed inspiration and the necessary know-how to facilitate treatment.
To inform family members about how they can help themselves and support their loved ones.
Exeter police officer recognized for Blue Cares visits
Exeter Police Officer Daniel Homm was honored in November 2020 as a Red Cross Law Enforcement Hero for his work helping opioid abuse and overdose victims. "Daniel leads the department for the most lives saved with the help of Narcan," a Red Cross announcement stated. But his work goes beyond administering Narcan. He also has frequently volunteered to participate in Blue Cares visits to overdose survivors, accompanying Brian Kammerer, a drug and alcohol program specialist with the Council on Chemical Abuse.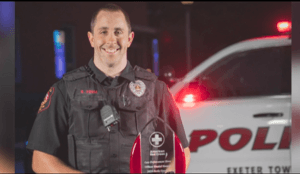 Blue Cares 2019 Statistics
In 2019 Berks County Law Enforcement officers conducted 82 home visits resulting in 36 engagements with the overdose survivor or their family. When we were able to contact the overdose survivor, 37%  accepted a referral to a substance use disorder treatment professional. We were also able to contact a family member 28 times, providing them with education and information about support groups and services in their communities. We also gave out 26 Narcan kits during Blue CARES home visits.
What Happens if No One is Home?
Even when no one is available at the time of the home visit, the police officer and certified recovery specialist always leave information behind, including their contact information. Often times a family member or overdose survivor makes contact after the initial visit, and a referral can be made at that point.
What Police Departments Participate
As of December 2019 all Berks County Police Departments participate in the Blue CARES Program, in addition to the Berks County Detectives and Penn State Berks Police Department.