For updates regarding COVID-19 and the affected services and programs, please click here.
Pennsylvania State Youth Survey (PAYS)
The Pennsylvania State Youth survey is issued statewide in the fall of odd-numbered years to any school that opts to participate. COCA urges Berks County schools to participate, because the survey provides crucial information into attitudes and behaviors of Berks County youth on a number of issues that put students at risk. It also helps gauge the effectiveness of existing prevention and intervention programs.
"The Pennsylvania Youth Survey data is a key piece for prevention planning in Berks County. It helps establish priorities and target audiences for current and future programs,"  said COCA Prevention Program Manager Jaclyn Steed.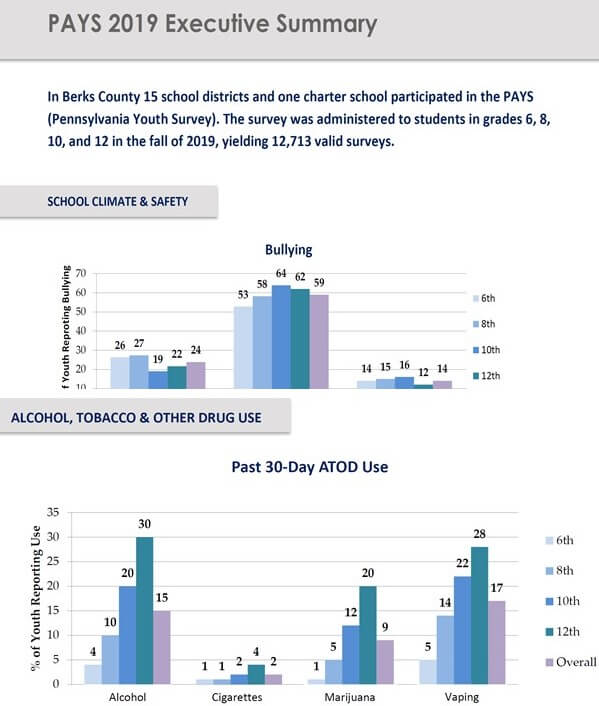 See all 2019 Berks Co. Stats
About the 2019 PAYS Berks Survey Results
How many Berks County students took the survey?
In Berks County, 15 school districts and one charter school participated, administering the survey to students in 6th, 8th, 10th and 12th grades, yielding a total of 12,728 valid surveys. That represents a significant uptick from 2017, when eight school districts and one charter school administered the survey. We are grateful to all who participated and for the increase in participation, as it helps provide a more accurate picture of Berks County youth behaviors and attitudes.
Participating schools included:
Antietam School District
Boyertown Community
Brandywine Heights Area School District
Conrad Weiser Area School District
Daniel Boone Area School District
Exeter Township School District
Fleetwood Area School District
Governor Mifflin School District
Hamburg Area School District
I-LEAD Charter School
Kutztown Area School District,
Muhlenberg School District
Reading School District
Twin Valley School District
Wilson School District
Wyomissing Area Community
Do schools that participate benefit from PAYS?
Yes. PAYS data is mandatory for the Berks County Needs Assessment, which is required to secure state funding for prevention services. Reading School District, for example, received three years of funding for Project Towards No Drug Abuse as a result of PAYS data. The district also received six years of funding, as well as teacher trainings and curriculum materials for Botvin Life Skills, an evidence-based substance abuse and violence prevention program.
What types of questions were asked in the survey?
The 2019 PAYS questionnaire asked students about bullying, school safety, gambling, depression and, the use of alcohol, tobacco and drugs. PAYS also asked questions about mental health and suicide risk.
What were some of the key results?
The survey asked questions about 30-day use of marijuana, alcohol and inhalants. In Berks County, 15.2% of students reported having used alcohol within the past 30 days, compared to 16.8% statewide. In Berks, 8.8% of students reported using marijuana in the last 30 days, and 16.6 % had used inhalants, compared to, respectively, 9.6% and 17.7% at the state level.
Among those who had used alcohol, 30.7 percent said their parents had provided it, higher than the 25.7% statewide. Another 33.6% said they took it without permission, while 25.8% got it from a friend or sibling over 21.
In Berks, 49.9% of students had vaped some substance, primarily nicotine (44%) or marijuana (25.4%). Statewide, 46.4% of respondents had vaped some substance, again mostly nicotine (56.6%) and, to a lesser degree, marijuana (26.6%).
Another key finding dealt with prescription drug use, with 4.2% of Berks County youth saying they'd used prescription pain relievers in the past 30 days. The majority of those, 48.5%, took them from a family member, while 34.3% were given them by a friend or family member, and 21.6% bought them.
School safety is important
Get 2020 stats on school safety, substance use & mental health among PA high school students
View now
School safety, substance use & mental health among PA HS students
40% Alcohol, tobacco, marijuana