WEBINAR: The Dis-Ease of Addiction (for Professionals)
A person who struggles with addiction is often said to have a "problem' with the drug of choice. In this webinar, we will explore the reasons why the addiction workforce needs to expand its thinking to consider addiction as a SOLUTION to a DEEPER problem. Left unresolved, problems that stem from trauma, abuse, ACE, and neglect will continue to manifest themselves in the solution of addiction.
This one-hour workshop for professionals will examine the DIS-EASE within not only the person who struggles but within all of us, as well as the importance of community and connection in the recovery process. This presentation will include training credit.
This is a FREE webinar but registration is required!
For more information, contact Marcia Goodman-Hinnershitz at mghinnershitz@cocaberks.org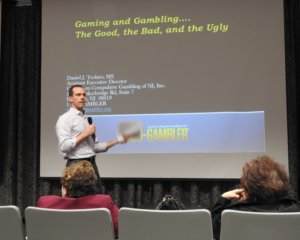 About the Trainer
Dan Trolaro, MS, is the Assistant Executive Director for the Council on Compulsive Gambling of NJ.  He has spoken at dozens of events around the state and country about the "Dis" Ease of Addiction, emerging trends in video gaming and disordered gambling. He has a Master's of Science in psychology from California Coast University, and a BS in economics from The College of New Jersey.
Details
Date:
Thursday June 04 2020
Time:
10:00 am - 11:00 am
Cost:
Free
---
Event Category: Training/Webinar
---